World-first home energy research lab

A £16M home energy research centre in Salford has been given the go-ahead by funders.
The unique facility at the University of Salford will offer state-of the-art testing for hundreds of UK companies innovating in the construction, energy, smart homes and digital sectors.
The investment was welcomed by business leaders and politicians, which will give Greater Manchester the world's first all-weather research centre for whole building performance capable of cutting test times for new products "from years to a matter of weeks."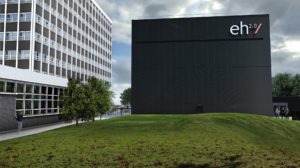 The new facility – Energy House 2.0 – is timely given the UK's Industrial Strategy on 'clean growth' and also supports Greater Manchester's plans to position itself as a world-leading green business and clean tech hub.
GM Mayor Andy Burnham said Energy House 2.0 would pave the way for net zero carbon homes and workplaces: "We're determined to push boundaries to make Greater Manchester one of the greenest city regions in Europe. Energy House 2.0 at the University of Salford will be a significant driver towards truly net zero carbon homes and workplaces, not just here in Greater Manchester, but across the UK."
Mike Ormesher, Research and Product Development Director at the standards agency the British Board of Agrement, said: "It is fantastic news for industry. This is a much needed support mechanism for the UK's new and existing building stock and will provide the research quality we need in the industry."
Energy House 2.0 is a successor to the University's hugely-successful Energy House, which opened in 2011 and has provided the science behind technological change and a raft of initiatives to save on energy bills particularly for Britain's 5 million 'fuel-poor' households.
The existing facility – a Victorian terraced house inside an environmental chamber – is one of the most famous laboratories in the UK, and has regularly featured on TV and in the media.
The new blueprint is a much a larger, more flexible facility, where all sorts of buildings can be constructed, tested and demolished. The laboratory will create wind, snow, rain, solar simulation, and temperatures between -20C and +40C. It houses sensor, thermal, data and visualisation laboratories and new product development unit under a single roof with viewing galleries and a board room.
Vice-Chancellor of the University of Salford, Professor Helen Marshall said: "Energy House 2.0 is an excellent example of a university, industry and government working together to tackle some of the major environmental and social issues of our times while supporting innovation and business growth."
The facility is funded by the European Regional Development Fund, the Office for Students and the University of Salford, and is due for completion in 2020.
If you would like to read more articles like this then please click here.
The post World-first home energy research lab appeared first on UK Construction Online.