Hedgehog highways and bee hotels

Hedgehog highways and bee hotels are the latest additions to housing developments from Crest Nicholson.
The award winning housebuilder has launched specially designed 'hedgehog highways' and 'bee hotels' at its Grange Meadows development in the idyllic village of Cannington, Somerset. The initiatives aim to protect and encourage wildlife around the development.
The highways allow local hedgehogs and other wildlife to roam freely at night, keeping them safe by avoiding roads, whilst the bee hotels, designed by Elmtree Garden Contractors, provide a haven for bees to rest and lay their eggs.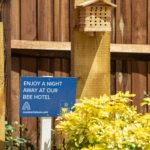 The bee hotels and hedgehog highways are supported by a number of other initiatives on the development to increase biodiversity, including bird and bat boxes, hedgerow and tree planting, and the provision of lighting designed to minimise disturbance to bats and other wildlife.
Clare Brimble, Sales and Marketing Director for South West, comments: "We pride ourselves in building communities at Crest Nicholson, and that includes looking after the wildlife in and around our developments. Bee hotels, hedgehog highways and other features such as bat boxes all play a part in providing a refuge and safe corridors for animals, helping us make a positive impact on the environments in which our residents live in. We hope the initiatives give residents the chance to grow an even greater appreciation for the wildlife on their doorstep."
Paul Lynch, Managing Director at Elmtree Garden Contractors, comments: "We are delighted to support Crest Nicholson in the creation of the bee hotels at Grange Meadows. With hedgehog and bee populations in rapid national decline, measures like this will aid their recovery.
"The bee hotels, fixed to the top of a post, attract solitary bees which fly past with their pollen. The hotels provide them with a space they can make a nest and lay their eggs – not only are the bees happier as a result, but they benefit our biodiversity and ecosystems through the pollination of plants. We've installed a number of bee and other insect hotels at a range of Crest Nicholson developments, including here at Grange Meadows, knowing we are helping nature do its thing! Alongside this, we also plant high pollen plants such as lavender, which provide bees with the nutrients they need to feed themselves and their young and a resting place. This in turn helps make the garden more attractive to our little friends."
Including eco-friendly features to developments is becoming increasingly important, not only do house buyers want properties which have environmental features, but regulations are encouraging more eco-input into builds.
If you would like to read more stories like this, then please click here
The post Hedgehog highways and bee hotels appeared first on UK Construction Online.