Construction of Princes Quay Bridge, Hull now underway

Construction of Princes Quay Bridge in Hull, which will one day shape development across the city, is officially underway.
Princes Quay Bridge is being built to link the city's marina to the southern end of Princes Dock. Crucially, the bridge will significantly improve access, making it easier for pedestrians, cyclists and disabled users to cross the A63.
The £12M Highways England scheme is being part funded by the Humber LEP Local Growth Fund programme, which secured £4M through growth deals with the government and as part of an ongoing Northern Powerhouse commitment. The construction phase was officially kicked-off by Lord Haskins during an event held at the marina site.
According to Highways England Senior Project Manager, James Leeming: "This start of work is great news and a milestone we have been working towards for some time. The bridge will provide easy access across the A63, helping link communities, shops and business. The bridge has been designed to allow further development around the waterfront and is an important part of Hull's plans for the future."
Councillor Daren Hale, who is portfolio holder for economic investment and regeneration in Hull, added: "Our city's transformation is well underway, and continually improving Hull's transport infrastructure to support sustainable economic growth is a huge priority for the council. As well as delivering improved air quality targets for this area of the city. The bridge will connect the heart of the city to its thriving waterfront and is a critical element of our long-term regeneration plan for Hull."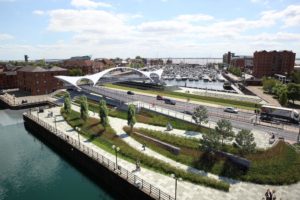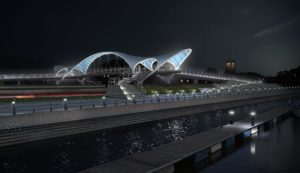 Finally, Lord Haskins – Chair of the Humber Local Enterprise Partnership (LEP) – concluded: "This link will improve safety when crossing the busy road, and will of course impact positively on future developments. I'm sure that this will prove to be a fantastic addition to the city's infrastructure, and I am pleased that this project is being delivered with support through the LEP's Growth Deal programme. It is an important step towards the wider A63 Castle Street upgrade, which we look forward to seeing proceed."
Nearby, work has recently begun on the A63 at Roger Millward Way, which will add an additional lane through the centre of the roundabout and install traffic signals to reduce congestion and smooth the flow of traffic. The £6M improvement programme is being funded as part of a nationwide £220M Congestion Relief Fund, announced by the government last year to help tackle congestion at key locations.
Work on Roger Millward Way is expected to take around nine months to complete, while Princes Quay Bridge is expected to finish in early 2020. Both schemes are being carried out together under a single contractor to minimise disruption and make the best use of available funds. The schemes will complete in advance of the major A63 Castle Street project which will improve access to the port and city centre and is due to begin in 2020.
If you are interested in finding out more about key infrastructure trends today, you may wish to attend the flagship infrastructure exhibition at the NEC in April 2019: UKIS 2019
Click here for more information on how to register or exhibit at the UK Infrastructure Show 2019.
If you would like to read more articles like this then please click here.
The post Construction of Princes Quay Bridge, Hull now underway appeared first on UK Construction Online.