Award for Berkeley brownfield site

Berkeley Homes' Southall Waterside site has won the top accolade at the Brownfield Briefing Awards, reflecting the superb work done on this highly ambitous regeneration project.
In winning this highly competitive award, Southall Waterside beat off stiff competition from across the country, with the competition panel highligting Berkeley's innovative and technically excellent approach, together with overcoming challenges on this strategically important site. Berkeley also demonstrated its commitment to sustainability and long-term approach to ensuring the development can successfully integrate into the existing Southall community.
The project itself involved the conversion of a 88-acre former industrial site, which had been left redundant for over 40 years. Ground conditions, as well as infrastructure and boundary constraints – including 17 active gas mains crossing the site of varying pressures and ages – meant that Berkeley has had to leverage its technical expertise to transform the site, bringing it back into active use – and filling the missing gap in Southall.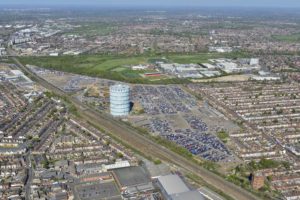 As well as providing 3,750 new homes for the area, and up to 50,000sqm of commercial, community and leisure spaace, the development will create two new parks and open up access to the Grand Union Canal. Much needed healthcare and educational facilities will also be created.
Southall Waterside is set to become an exemplar project nationally, demonstrating the successful transition from a contaminated brownfield site to one of wide-ranging and continually evolving biodiversity.
The Brownfield Briefing Awards are judged by a panel of industry experts, including members from government bodies, specialist environmentla consultancies and contractors, and engineering and deisgn firms. The highly-regarded awards recognise innovation, creativity and best practice across the remediation sector. Berkeley Homes scooped two awards at the ceremony with the Berkeley (West Thames) development winning the coveted Best Urban Regeneration Project award.
Karl Whiteman, divisional managing director at Berkeley (East & West Thames) said: "We are delighted that Southall Waterside has won not just one, but two sought-after awards at the Brownfield Briefing Awards, including the Brownfield Project of the Year top prize.
"This development was not taken on lightly: it is an extremely complex, brownfield site posing significant challenges however we were – and still are – positive that this development is worth the effort.
"Our vision for Southall Waterside offers residents, and the wider Southall community, a fantastic quality of life and approximately 50% of the site will be transformed into green space.
"We want to create a development that everyone will enjoy and we're extremely proud that this ambition has been recognised."
If you would like to read more articles like this then please click here.
The post Award for Berkeley brownfield site appeared first on UK Construction Online.