BAM wins £20m Asda scheme in Hayes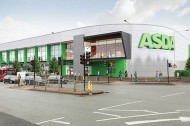 BAM is understood to have beaten rival Bowmer & Kirkland to take an Asda supermarket scheme in Hayes.

The contractor will start work shortly on the 86,000 sq ft scheme, configured in a store on stilts design above parking for 420 cars.

The £20m supermarket job forms the first phase in redeveloping this Westlands Industrial Estate site as a mixed-use development with a 76,000 sq ft industrial units behind the store.

Landowners British Steel Pension Fund gained approval after successfully appealing Hillingdon Council's decison to refuse permission a year ago.